Vendor independent software platform for
alarms and communication
Vendor independent software platform for
alarms and communication
Plate-forme logicielle indépendante de la marque pour les alarmes et les communications.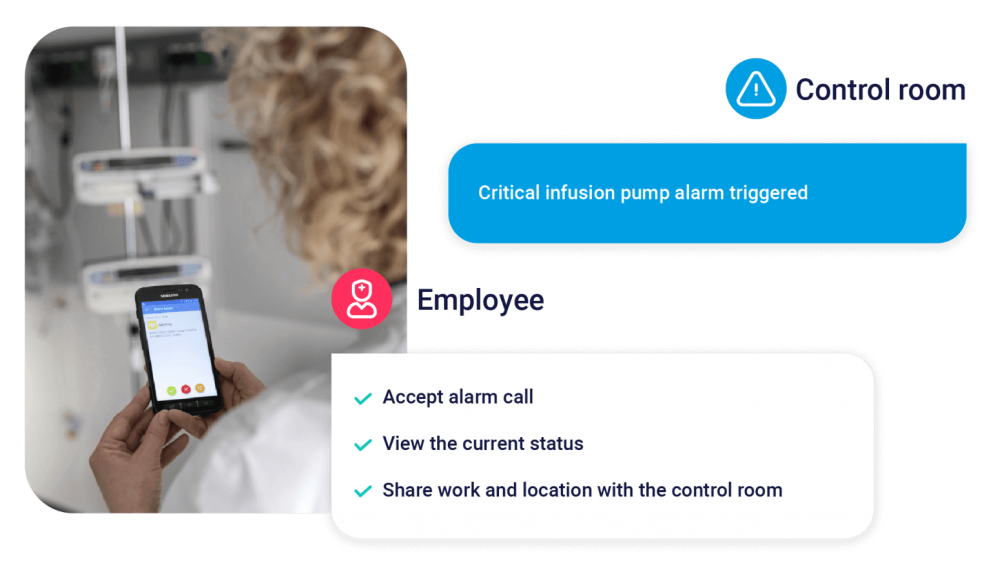 The most powerful vendor independent alarm server
IQ Messenger is the software developer of a vendor independent and software-only platform for critical alarms. The apps and integrations enable organisations to combine alarms from both existing and new systems and to say goodbye to vendor lock-in imposed by suppliers.
IQ Messenger does not sell hardware. With its medical certification, user recommended functionality, and the largest range of vendor specific integrations, IQ Messenger offers the most powerful alarm server worldwide.
Alarm notifications at the right time to the right person
IQ Messenger improves critical communication within your organisation by connecting more than 140 different systems with years of experience in the development of software-only solutions.
Merkonafhankelijk
No sales of equipment, but a software-only platform that combines existing and new systems independently of vendor. This means you no longer need unnecessary investments in hardware.
Efficiënt werkproces
The alarm system can be fully configured to the work process. All systems are combined on a single any-to-any alarm platform developed by a software-only message broker.
Volledig gecertificeerd
Fully certified for ISO 27001, ISO 13485 and Medical Class IIb. With maximum uptime, ensuring alarm follow-up so that safety is guaranteed.
SmartApp iOS Local Push Notification
Apple gives IQ Messenger, the standard in critical alarms, a unique entitlement for sending alarm messages without the need for internet connectivity and the Apple iCloud.
Siza talks about the IQ Messenger platform
IQ Messenger connects care systems and makes the care process leading.
Watch in this video how IQ Messenger is used at Siza to let the residents of Het Dorp live more independently.
The volume and number of alarms that come in to professionals can lead to alarm fatigue, learn how to reduce it
Get started with IQ Messenger.
Optimize alarm management
Request a demo
Keep me informed
Sign up to get the latest announcements and updates delivered to your email
Sign me up
The possibilities of IQ Messenger
See what IQ Messenger has to offer as a vendor independent message broker for critical alerts. Get in touch with us today and schedule a live demo.
Stay informed
Do you want to stay informed of the latest notifications, products or updates from IQ Messenger? Sign up to receive this by email.

-->