SmartApp Android
SmartApp IQ Messenger: Critical alarms, voice / video, location determination and personal safety.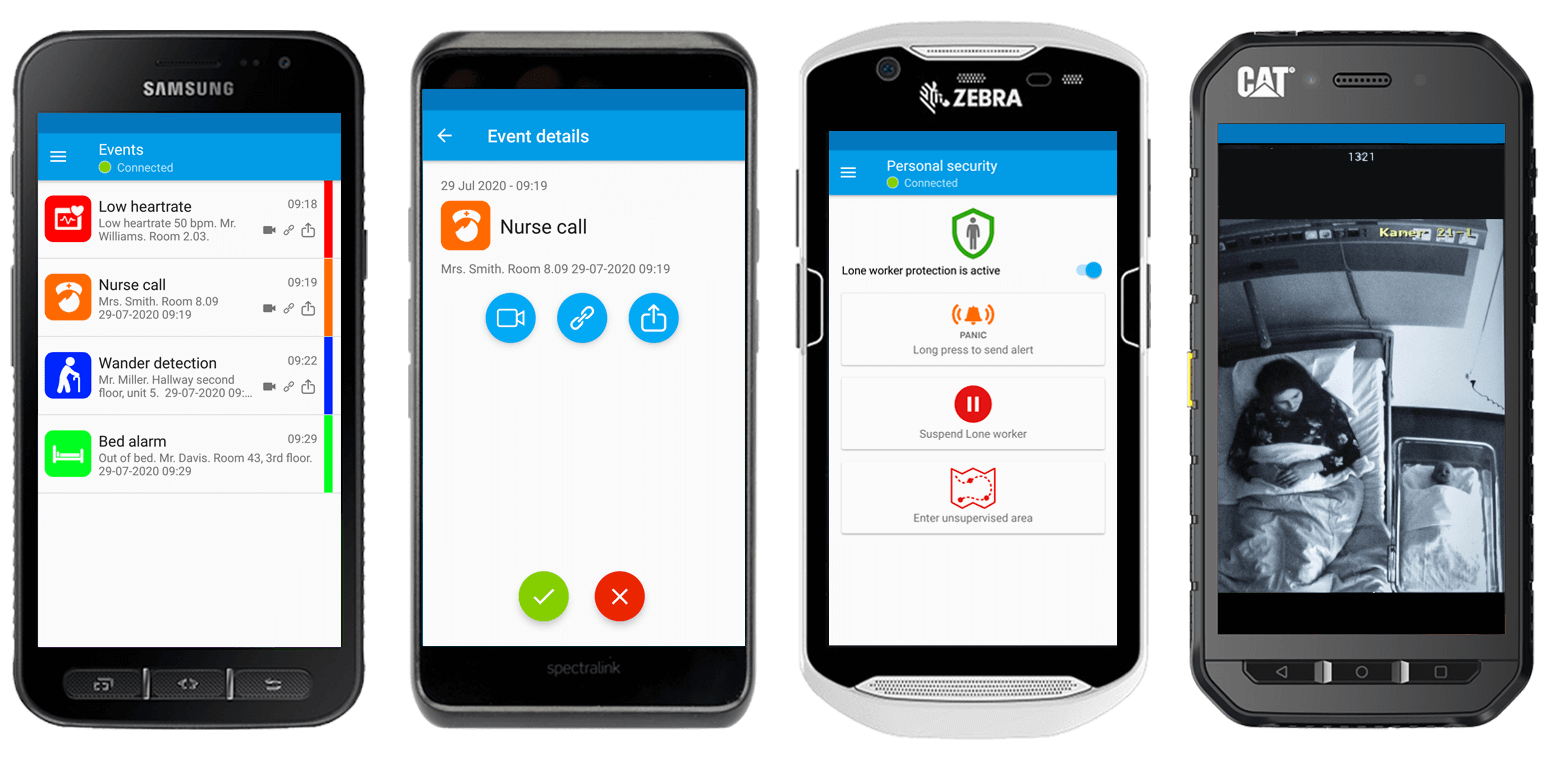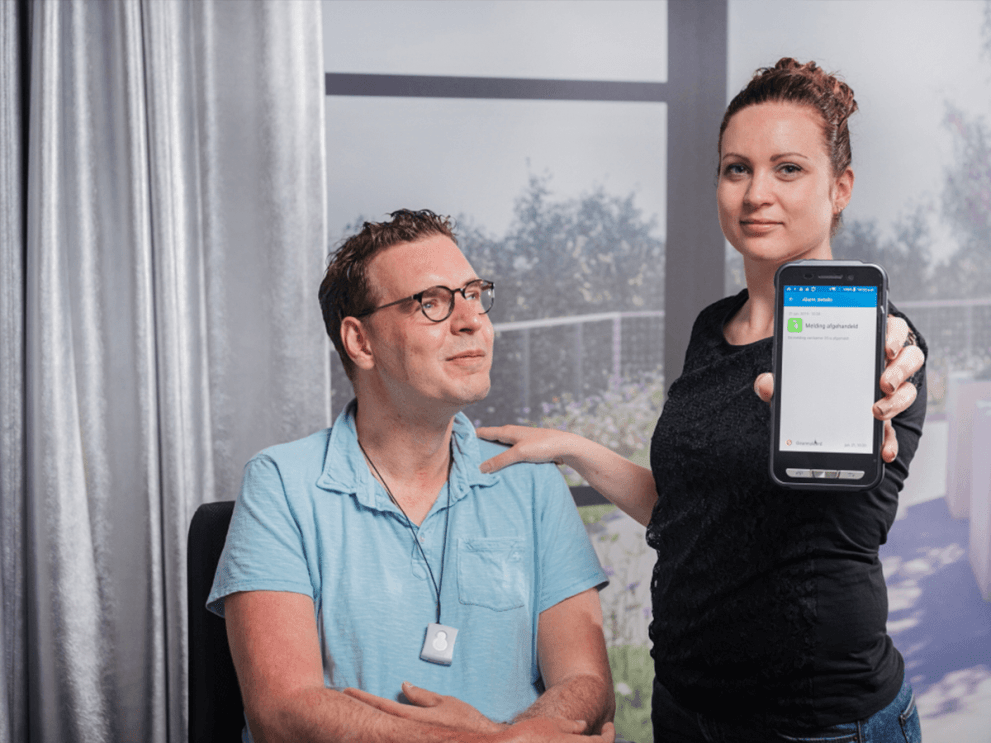 SmartApp Android
Generating alarms with the SmartApp is IQ Messenger's most frequently used application. The native Android SmartApp alerts your employees with ringtones and alarm settings of your choice. This ensures that alarms are immediately recognisable and employees are equipped with an easy-to-use alarm app.
The super-powerful SmartApp is even able to override user-configured sound on smart devices. Without passing through the Google Cloud, we communicate directly with the device so that employees do not experience any delays.
With the SmartApp from IQ Messenger, employees no longer need to carry two or more devices or use different alarm apps. Organisations see many advantages in replacing classic devices such as DECT and WiFi handsets for smartphones. For example, to be able to call over WiFi, view camera images and many other functionalities, which are explained in detail below.
Features
Android
Works on any Android device
Veiligheid
The SmartApp Enterprise is fully secured
Real-time
Real-time alarms and alarm history with actions
SIP & GSM
Mutual calling or a voice-listening connection over SIP and GSM
Connectiviteit
Connection over WiFi, 3G and 4G
Veelzijdig
Accept, ignore, call back with video functionality
Paniekoproep
Make a panic alarm with location determination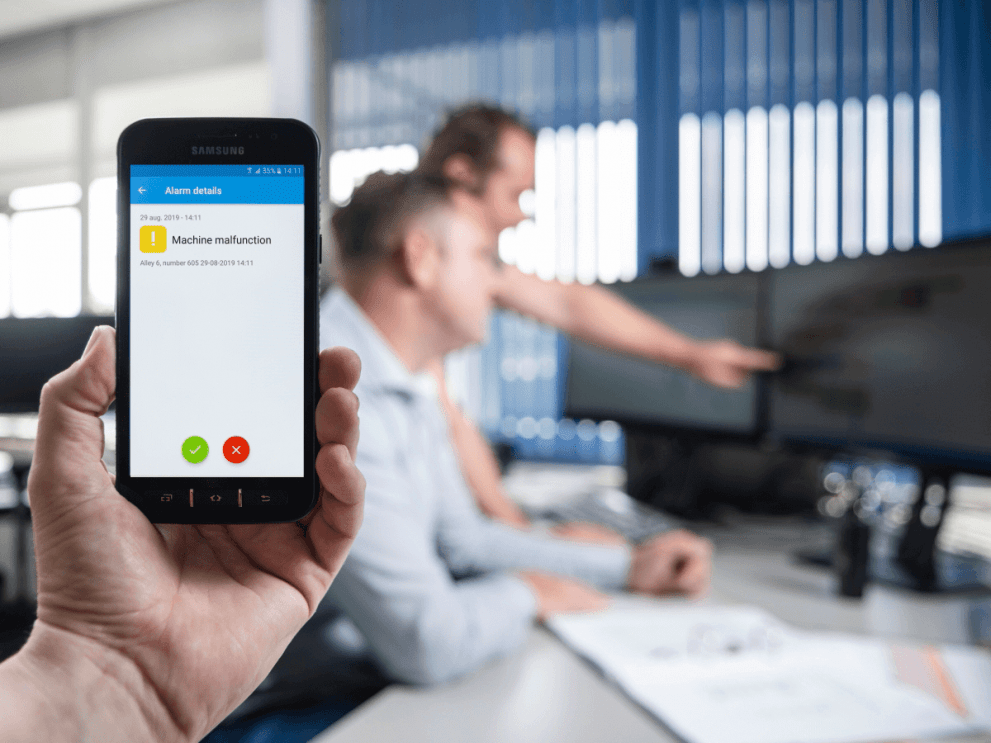 All alarms on one device and within one application
The SmartApp from IQ Messenger is an easy-to-use application developed in collaboration with employees who often have to deal with critical alarms. This application offers employees a tool to receive alarms and to be able to trigger personal security alarms themselves.
Employees experience uniformity thanks to a single alarm application for notifications regardless of the system or device that sends alarms.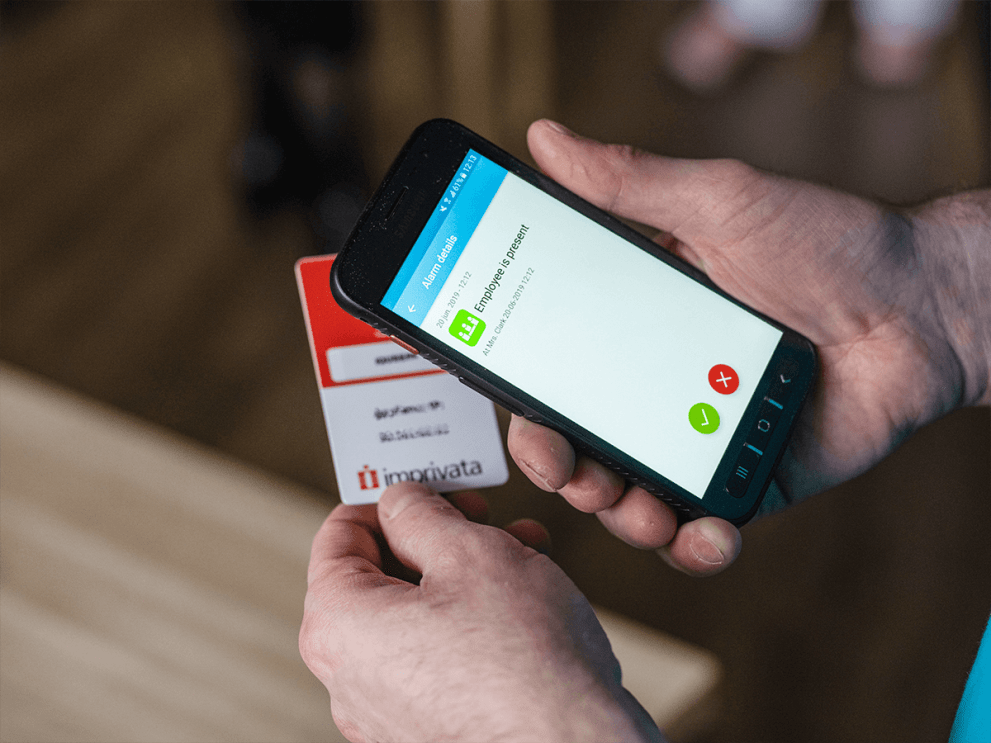 SmartApp login at lightning speed with Single Sign On
You can login to the SmartApp from IQ Messenger based on a unique username and password. With our concurrent-use model, licenses are needed only for the number of simultaneously logged-in employees. With the identity and access management connector, an employee account including user rights can be created automatically. With personal login details, colleagues can see who is online and to whom alarms have been assigned.
A password can be entered manually or via Single Sign-On. The employee picks up a device of his or her choice and automatically logs in by scanning his or her badge. Logging out is no problem thanks to the "in charger" feature control which automatically logs out the employee after a shift.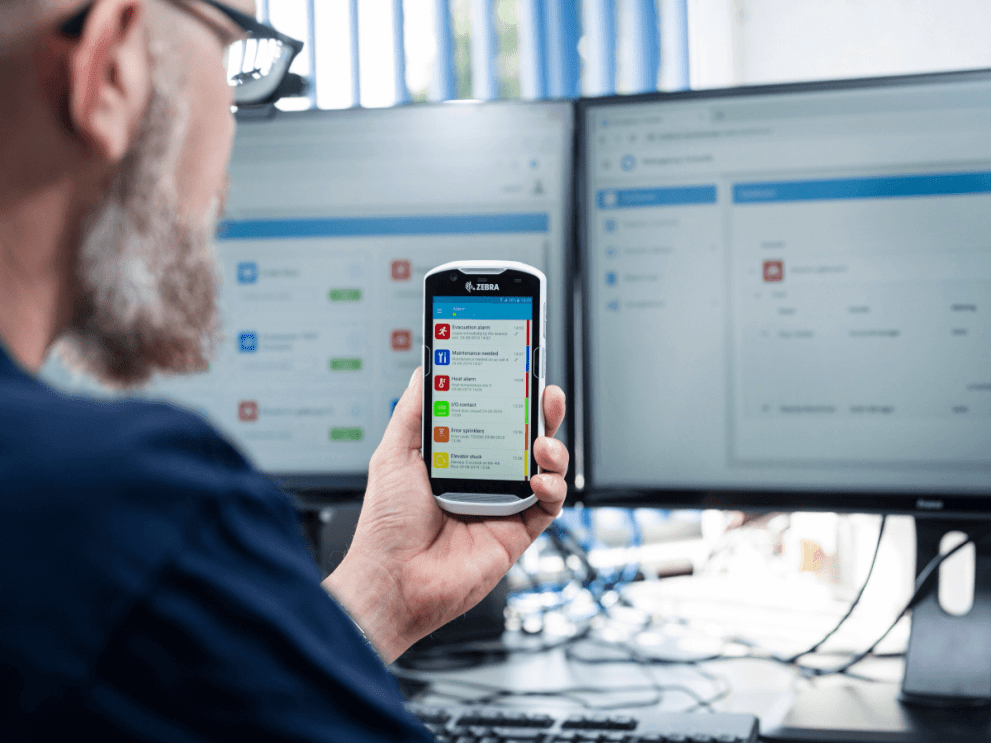 Only access to camera images authorised for the employee
Profiles and authorisations can be created for each employee individually based on the function. For example, certain camera images may or may not be viewed by employees, and employees may have various powers when it comes to switching profiles and activating alarms.
Alarms in one overview and automatically deleted when another employee has responded
All alarms assigned to the employee are visible in the alarm events list. It lists the alarms in chronological order based on priority. The priority level, icon, colour, text and all related information can easily be changed via our web-based administrator application, the Event Flow Manager.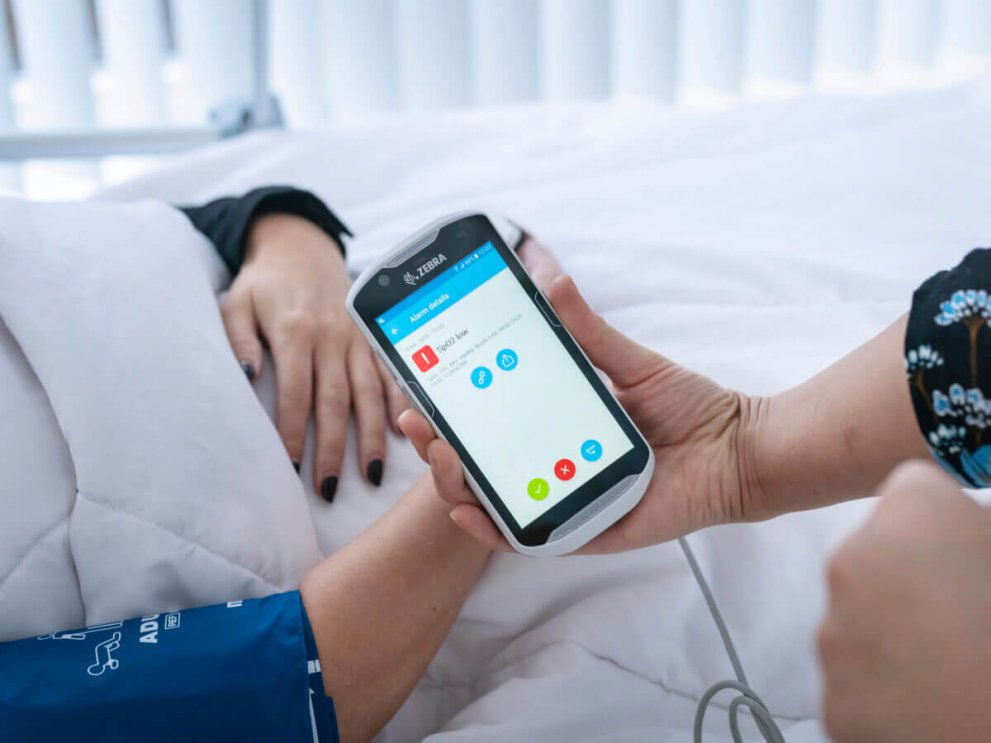 Alarm notification – crucial functionalities for good and safe alarm processing
The content of the alarm notification can be adapted to the work process. The icon, colour, ringtone and text can be configured by the organisation. Recognisability must be paramount to ensure that an employee immediately knows what kind of alarm it concerns.
Alarms allow employees to 'accept' or 'reject' them. When clicking 'accept', the employee indicates he/she is responding to the alarm. When clicking 'reject', the alarm is immediately escalated to another colleague.
For efficient alarm response, the SmartApp also offers various additional powerful functionalities that can be added to the alarm notification: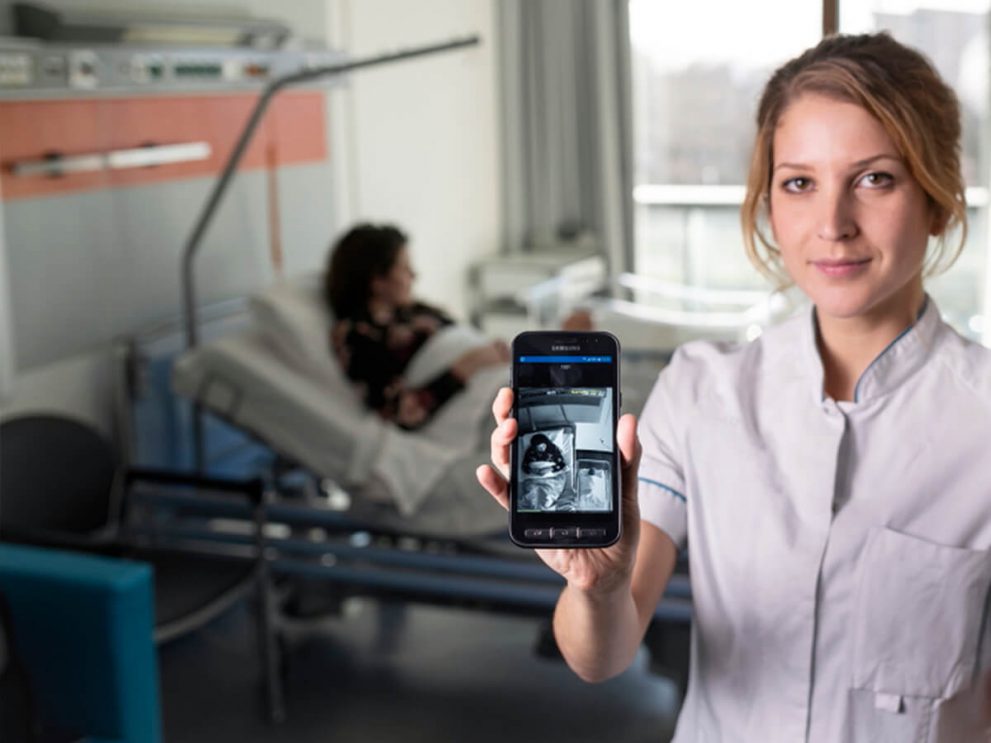 GSM and SIP calls
In the event of an alarm, a speak-listen connection can be set up directly with the patient or client via GSM or SIP. Video calls are also possible with this functionality. This feature provides additional safety and efficiency and contributes to a targeted alarm response.
Cameras
Via the SmartApp you can quickly and easily get an overview of all cameras at a location (depending on the authorisation level of the employee). As an employee (with the correct authorisation level), you have one-click access to cameras in the hallway or the video intercom, for example.
In addition, for reasons of privacy, camera images of healthcare organisations in patients' and clients' rooms can be continuously blurred unless there is an active alarm or specific situations such as planned night care.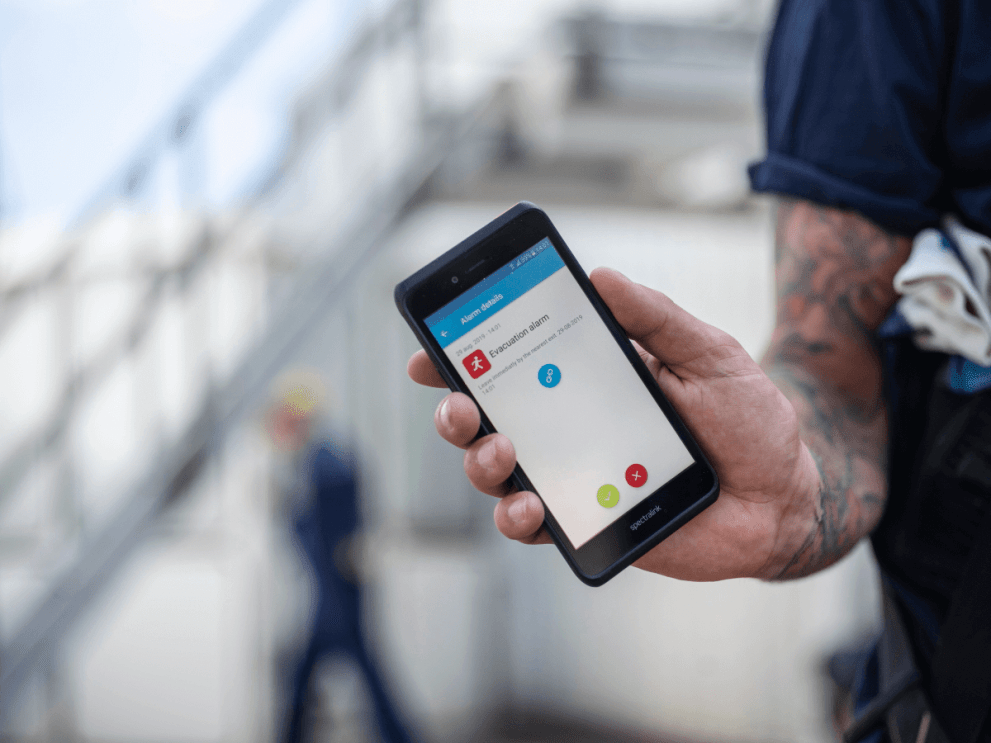 URL link
Any URL link can be added to the alarm message. For example, to immediately see the evacuation plan in the event of a fire alarm. Or if a report comes from a device that the employee does not know exactly how to use, you can add a link to instructions.
App link
This functionality enables opening a third-party application. The exact application can be configured individually based on your work process. In the event of an alarm from a monitor when a threshold value has been exceeded, you can also view the monitor images live via the app link, in addition to the alarm message and the last vital value measured. Healthcare professionals no longer need to physically go to the room. Instead, they have a live remote view of the monitor image associated with the alarm.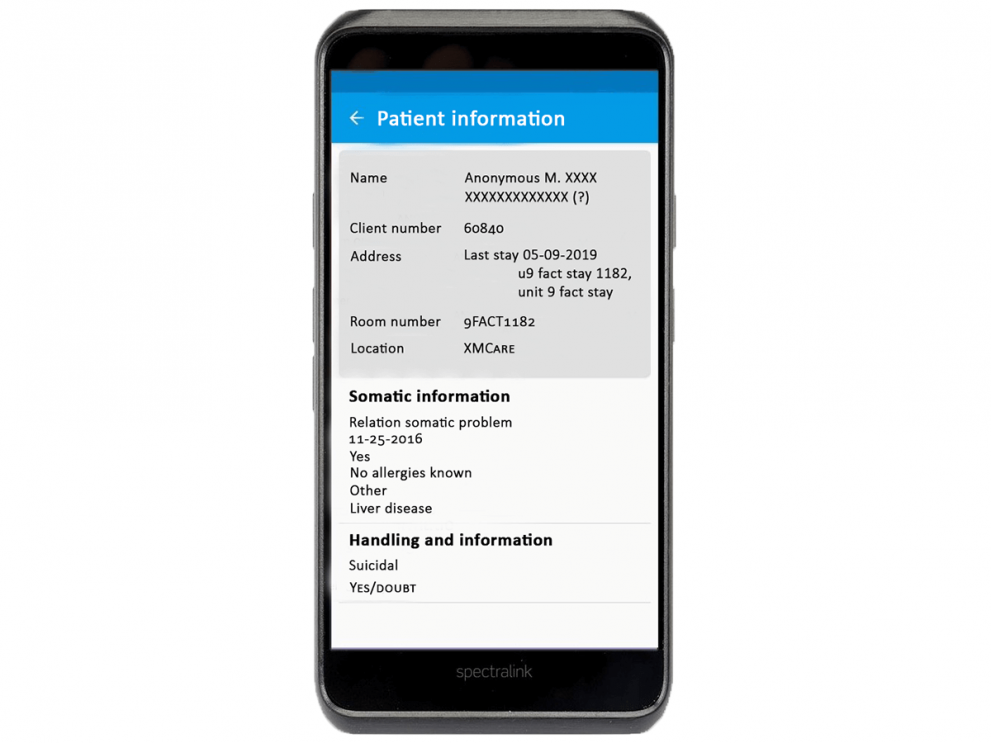 Client & patient card
IQ Messenger offers direct links to the EHR so that relevant client and patient information can be sent along with the alarm message. This is a top feature because the employee can consult crucial information in the event of an alarm. For example, whether or not a client or patient wants to be resuscitated. But also in the event of a panic or aggression alarm, one can immediately consult important information on how to deal with it so that this can be taken into account before entering the room. The employee is always well prepared with this functionality.
The client or patient card through the EHR integration is not only available through the SmartApp but also web-based within the IQ Messenger Real-time Console and Graphical Floor Plan.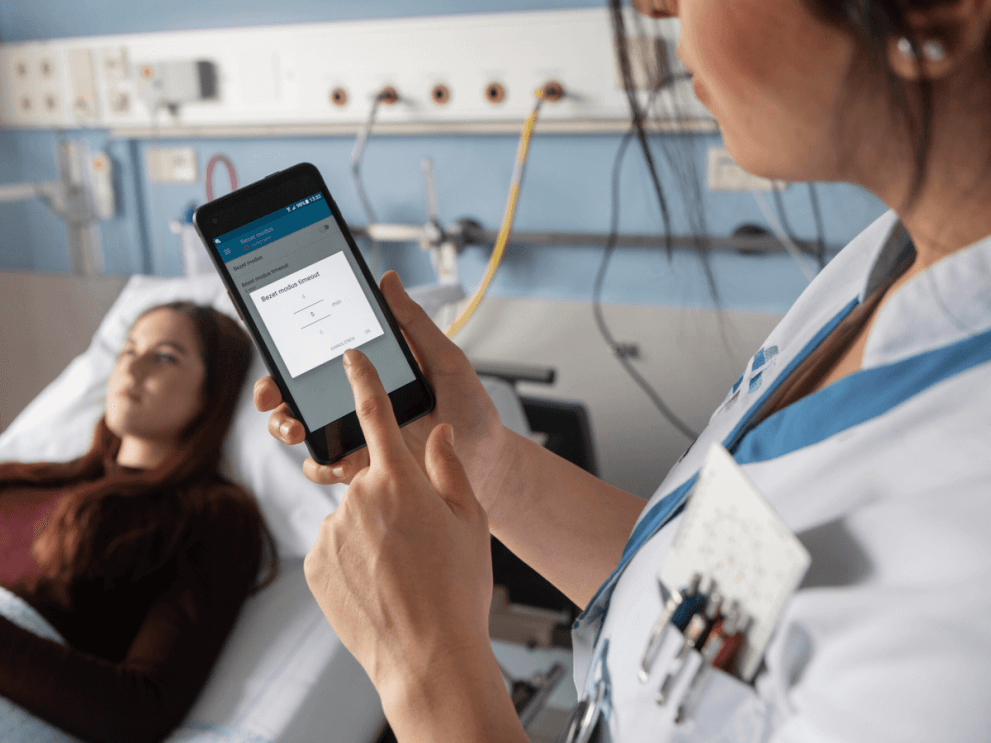 Busy mode to allow you to fully concentrate on work for a while, without alarm beeps
At times you don't want to receive alarms. If a healthcare professional wants to pay attention to the client or patient, incoming alarms can sometimes be an interference. It is disruptive for the client or patient and increases the workload of the healthcare professional. In addition, the patient's situation may deteriorate if an alarm continues to sound loudly and cannot be answered. IQ Messenger has therefore developed the busy mode to allow the healthcare professional to provide care in peace of mind, without receiving other alarms. Busy mode can be switched on and off manually on the device or by scanning an NFC tag or QR code in the room.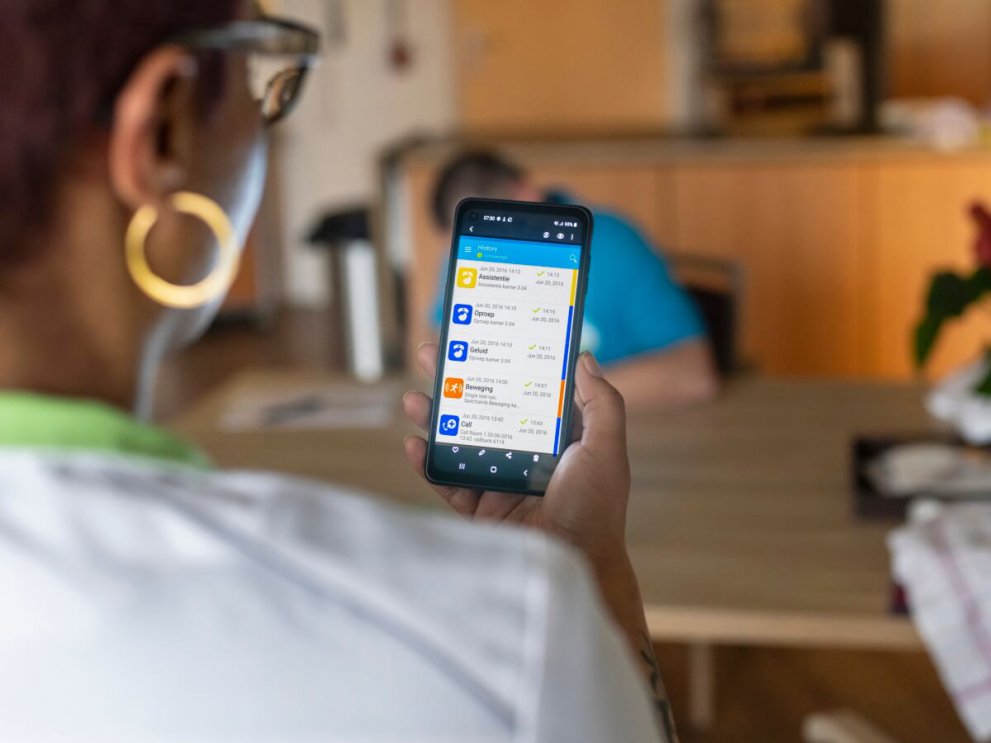 History of alarms in chronological order
View all alarms in chronological order. This is possible via the history functionality in the SmartApp. In addition to being able to see the alarms, you can also check whether the alarm has been accepted or rejected, at what time it was sent and at what time it was accepted or refused.
Profiles to switch sensors on or off and activate night modes
As an employee, you sometimes want to be in charge of switching certain systems on or off quickly and without the intervention of technical administrators. With our web-based application Profile Dashboard, but also via the SmartApp, an employee can switch profiles, when he or she has the right authority. Examples of switching profiles are switching on and off a privacy mode, switching on and off sound detection or a bed sensor.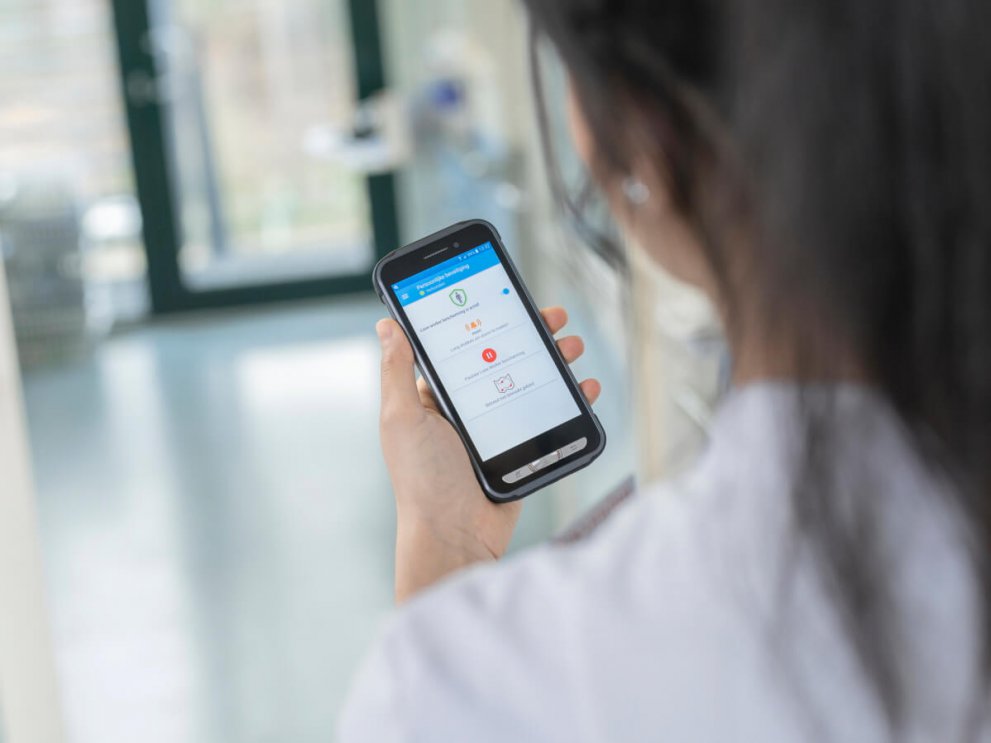 Personal security employees actively or passively start with the same app
Employee safety is a key theme on the work floor. Legislation and regulations stipulate that the identity of the employee does not suffice. In addition to the employee's identity, you are required to include the current location of the employee. Personal security of employees with positioning is a frequently applied IQ Messenger solution.
The SmartApp offers two different forms of personal security. Personal security triggered with a button on the device and 'lone worker' also known as 'no movement'.
Personal protection using the device button can sometimes even be triggered and cancelled using various buttons and combinations. Lone worker is deployed in situations where a limited number of employees are on location or with professionals who work out of sight of other colleagues. When an employee is in danger and the device does not detect movement, a pre-down alarm will be triggered. If there is no response, it can be escalated to an assigned colleague or emergency service.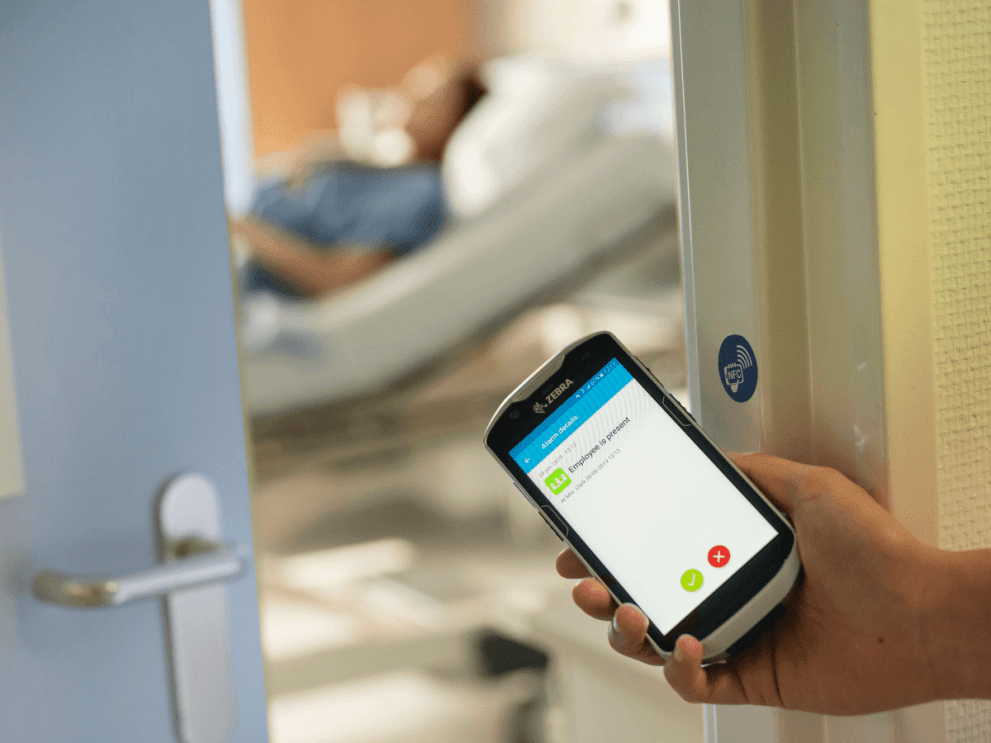 QR code or NFC tag scan to adjust alarms and open doors
The SmartApp application offers the possibility to scan QR codes and NFC tags. Examples of functionalities that can be activated include:
Switching profiles
Time and identity logging
Access control
Linking to a document, video or application
Adjusting care alarms when room is occupied to replace nurse call system (nursing home without nurse call)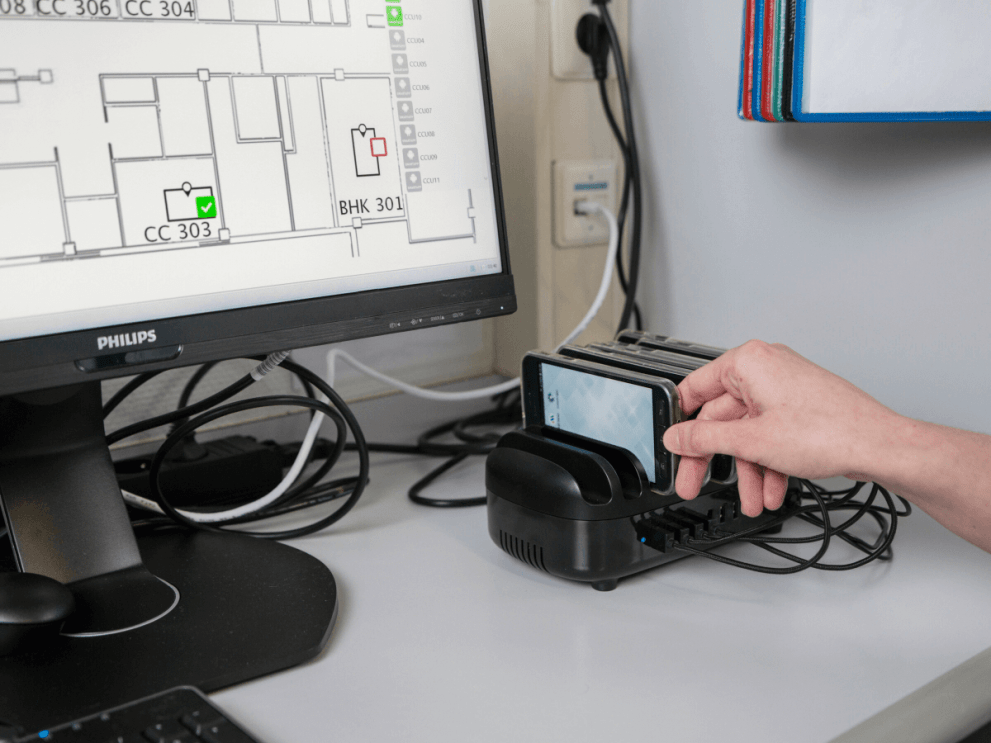 In and out of charger to log out directly as a SmartApp user
With this feature, you can automatically start a functionality in the SmartApp. Besides automatic logging on and off, you can also use this to enable or disable personal security, man down or lone worker. For example, if an employee puts his device on the charger, personal security is switched off. You can then set to automatically send a notification to the security guard with the message that the device is back in place. When the user removes the device from the charger, a command is sent to the server and personal security is automatically reactivated. The user is notified on the device that personal security is enabled. This way employees do not need to think about whether personal security is enabled or not.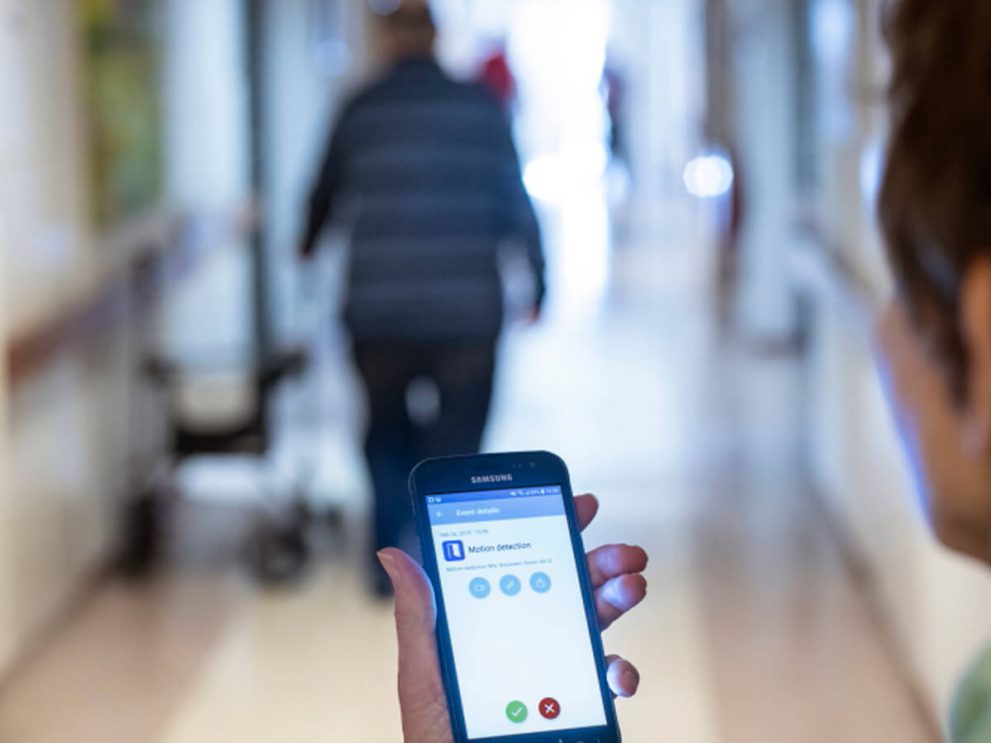 Technical Specifications
LDAP and SAMLv2 link for synchronisation of users and groups
Google Cloud slow-down is avoided
Settings can be pushed through any Mobile Device Management (MDM) tool
Direct heartbeat between SmartApp and the IQ Messenger server
SmartApp can be included in a certified NEN2575 fire alarm chain
Available for both Android and iOS for huge device choice
Both supports offer healthcare organisations enormous freedom of choice in device selection. This allows the healthcare organisation to select a device based on price, functionality, network reception and battery life.
A number of Android devices have additional buttons that can be recognised by the SmartApp as an alarm trigger button, for example as a personal security alarm.
Also available in iOS!
View SmartApp iOS
IQ Messenger integrations:
Get started with IQ Messenger.
Optimize alarm management
Request a demo
Keep me informed
Sign up to get the latest announcements and updates delivered to your email
Sign me up
The possibilities of IQ Messenger
See what IQ Messenger has to offer as a vendor independent message broker for critical alerts. Get in touch with us today and schedule a live demo.
Stay informed
Do you want to stay informed of the latest notifications, products or updates from IQ Messenger? Sign up to receive this by email.

-->