Emergency Console
Clear dashboard for calamities and emergency response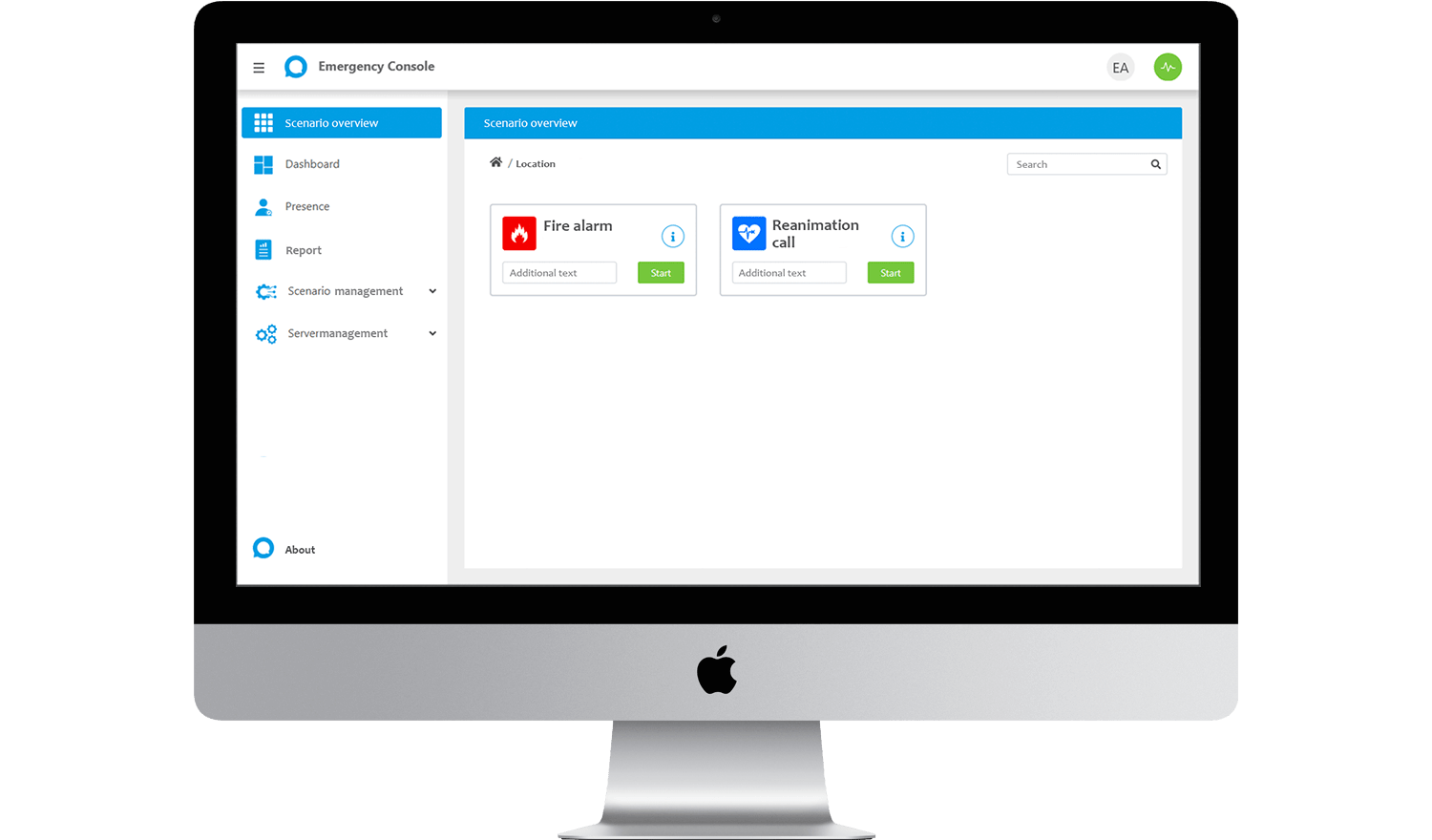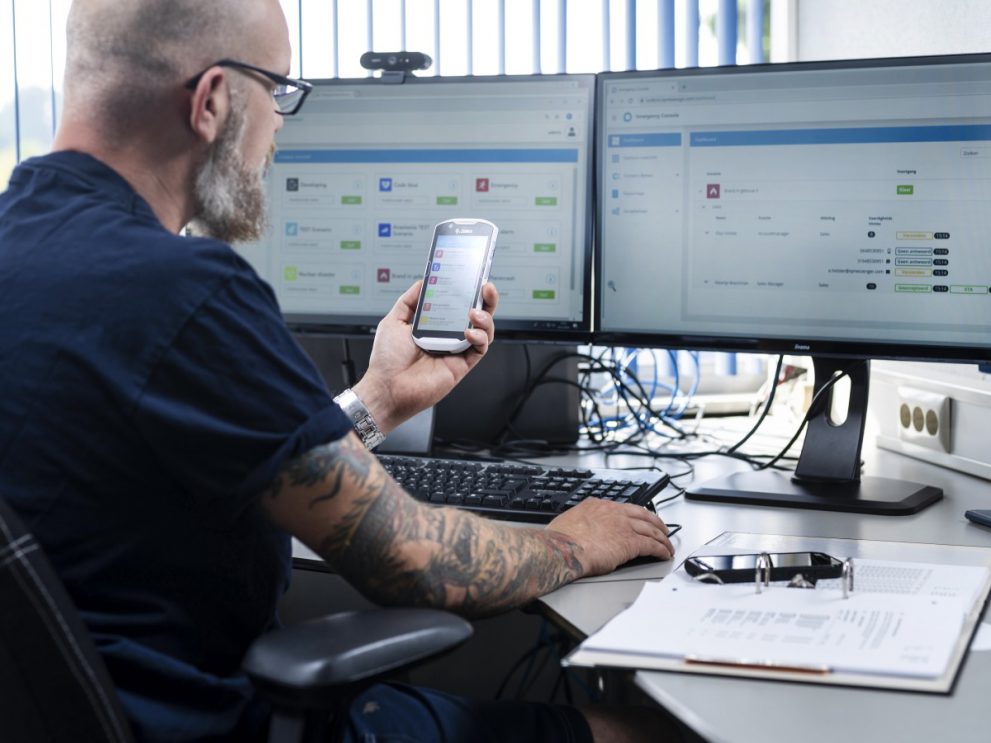 Emergency Console
Calling people quickly and easily in case of breakdowns, evacuation, fire, aggression and emergency response is possible with IQ Messenger's web application Emergency Console. After the start of a scenario, the dashboard shows in real time which employees have accepted the call and within what time they are present. Groups of employees can be called, emailed or texted at the push of a button. Of course you can also operate the systems connected to the IQ Messenger platform.
Recipients can be reached by: Text, email, voice notification, pager, DECT handset, vo-WiFi device, two-way radio, IQ Messenger SmartApp iOS and Android (with override of silent mode).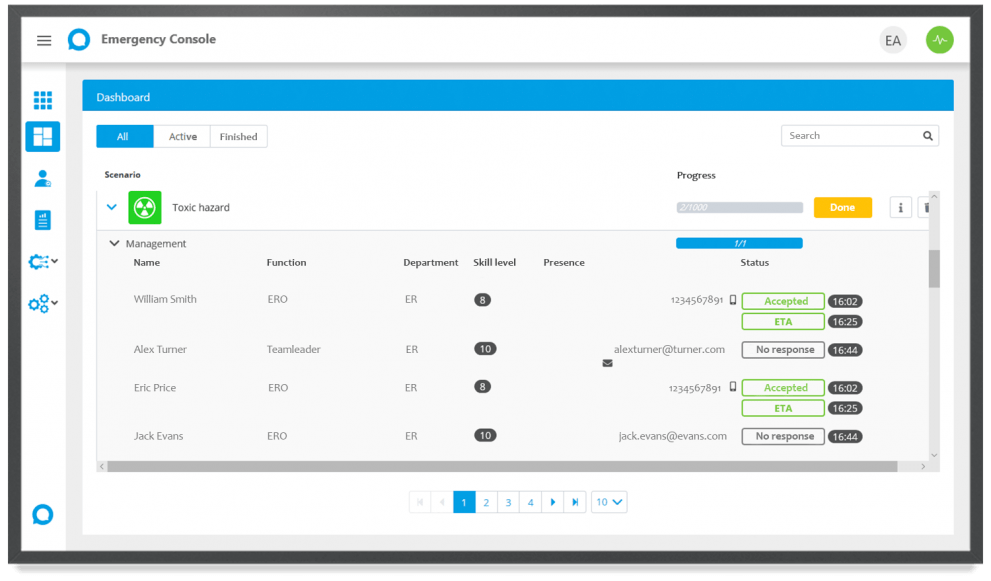 Maximum reliability
A maximum reliable solution delivered as standard in a cluster solution
"Test connection" button for the text, email, call and IQ Messenger integration
Calling, text, email and of course linkable with IQ Messenger integrations
Connection between server and web browser is continuously monitored
The solution is always in High Availability without any surcharge
Highest availability of 99.99%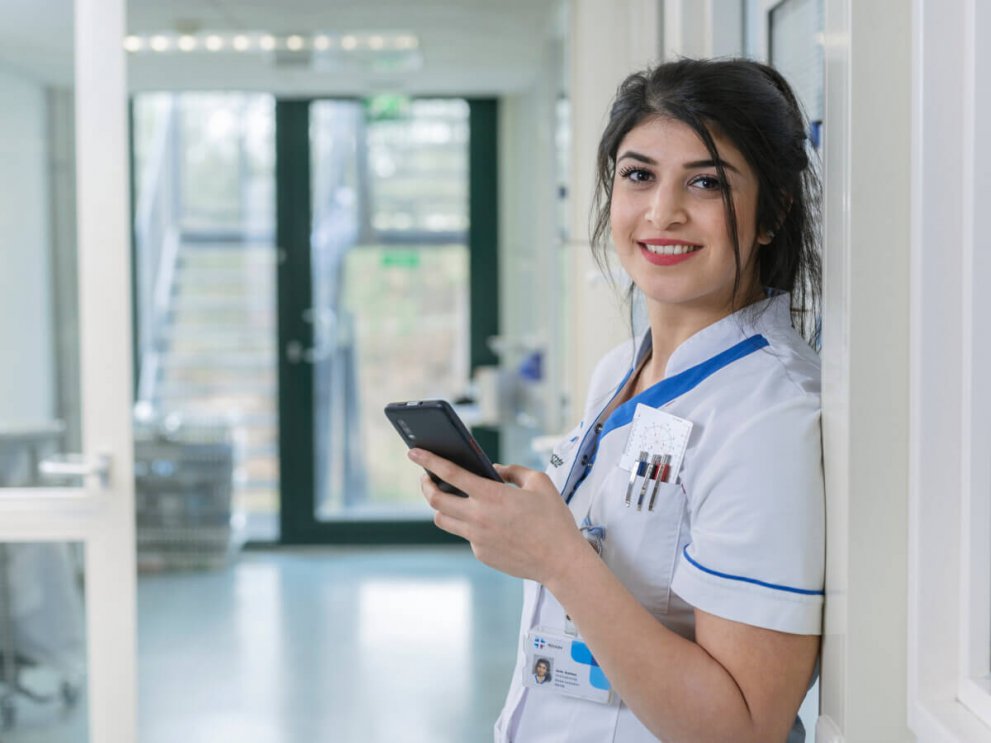 Voice notification
Simultaneous or conference calling of receivers
Confirm presence via DTMF and enter ETA
Monitor whether a recipient has accepted the call
SIP lines connected to a central or separate telephone line
Recipients can be reached on multiple numbers
Email
Connects the internal server to email recipients during a scenario
Recipients reply to emails and ETA times which are automatically read and displayed on the dashboard.
Text
Recipients receive a text notification with the possibility to reply and indicate an ETA time. Supported with SMS text providers Spryng and MessageBird.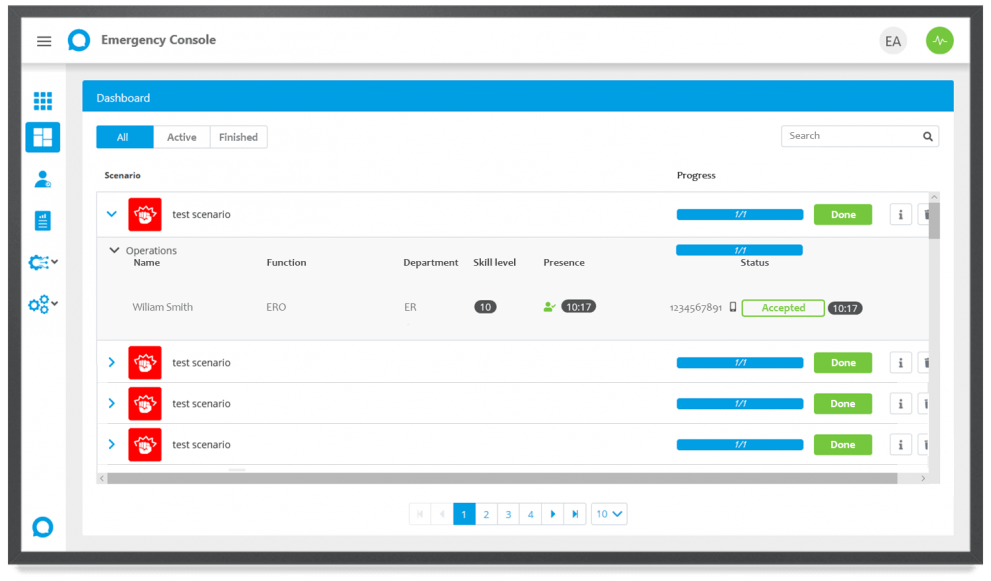 Dashboard: start the scenario, reach receivers and monitor the result
Through this web application dashboard, users can start a scenario with one click and monitor it. The application offers real-time insight into who is coming, when they will be there and the possibility to scale up or stop a scenario.
Adding additional text to a scenario
Scenarios can be started and monitored
Text to speech capabilities
Possibility to build your own scenarios and add receivers
Only the option to start scenarios of a particular department
Notification when the connection to the internet browser is disconnected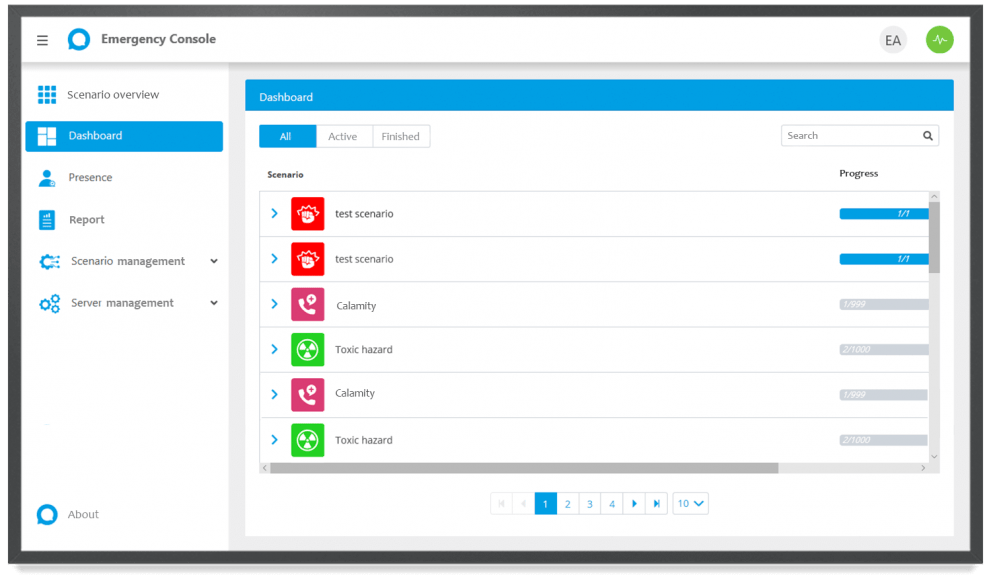 Scenario management
Within the Emergency Console web application, users can create their own scenarios. Icons, colours, audio fragments, sequences and groups of receivers can be set per scenario.
Recipients can be sent specific instructions based on their function and distance to the organisation. After scenarios have been started, crisis services can be put in conference.
Calling, emailing and texting recipients
IQ Messenger connected systems
Being able to reach recipients based on priority levels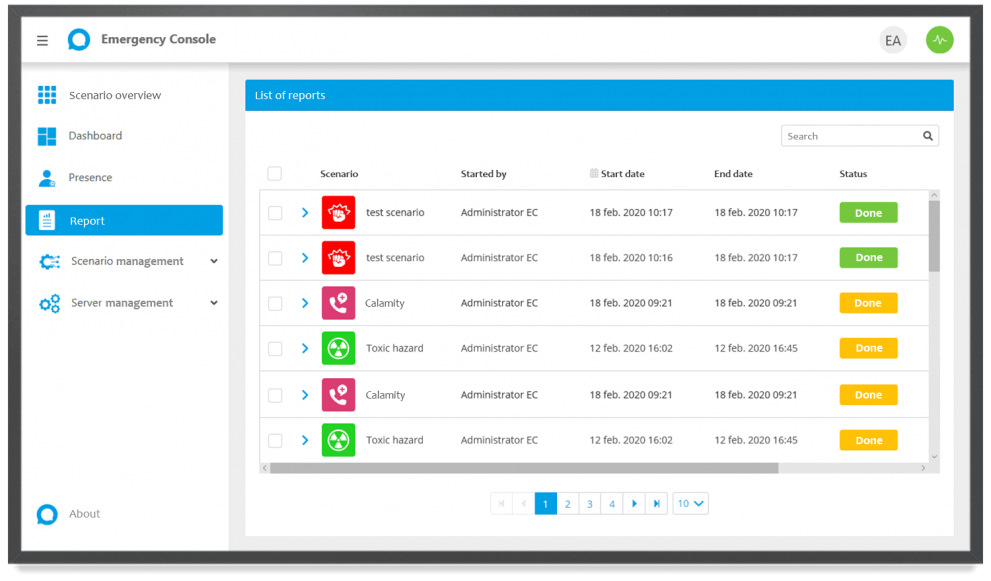 Recipients who are on holiday can be temporarily switched to absent
The time between actions is adjustable
Calling recipients based on distance to organisation
PDF export of each scenario
After completion of scenario, overview reporting received by mail
Automatically escalate to another scenario
Option to physically log in via the dashboard in addition to ETA time
Automatic language recognition so that the recipients receive notifications in their preferred language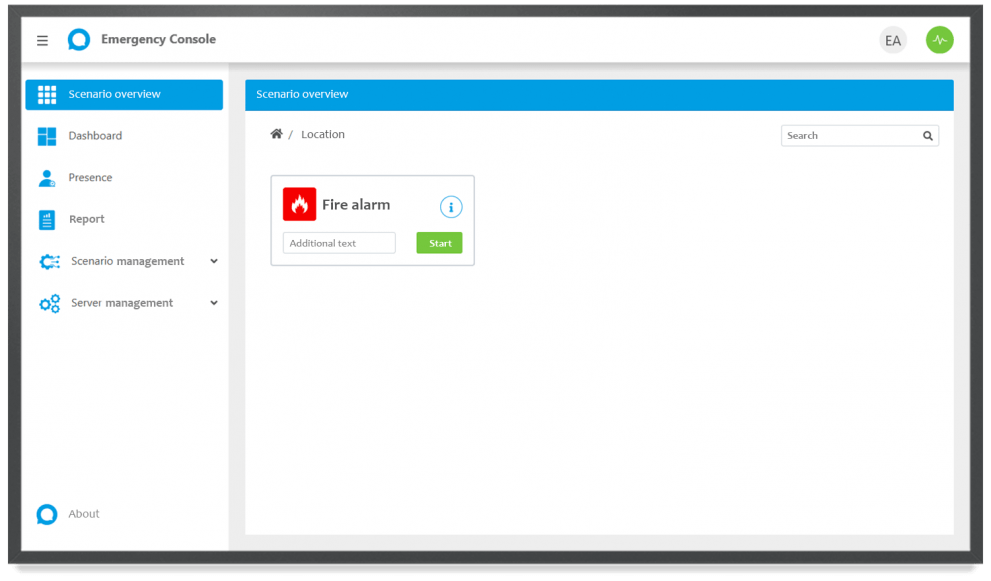 Technical Specifications
Recipients can quickly import using an Excel file or automatically with Active Directory
Supported with almost all current web browsers
Test button to check integration with SIP trunk, email server and SMS provider
Assign various roles and authorisations to dashboard users
Truly mission critical and free choice between on-premise or cloud solution
Get started with IQ Messenger.
Optimize alarm management
Request a demo
Keep me informed
Sign up to get the latest announcements and updates delivered to your email
Sign me up
The possibilities of IQ Messenger
See what IQ Messenger has to offer as a vendor independent message broker for critical alerts. Get in touch with us today and schedule a live demo.
Stay informed
Do you want to stay informed of the latest notifications, products or updates from IQ Messenger? Sign up to receive this by email.

-->