Graphical Floor Plan
Graphically display and activate all alarms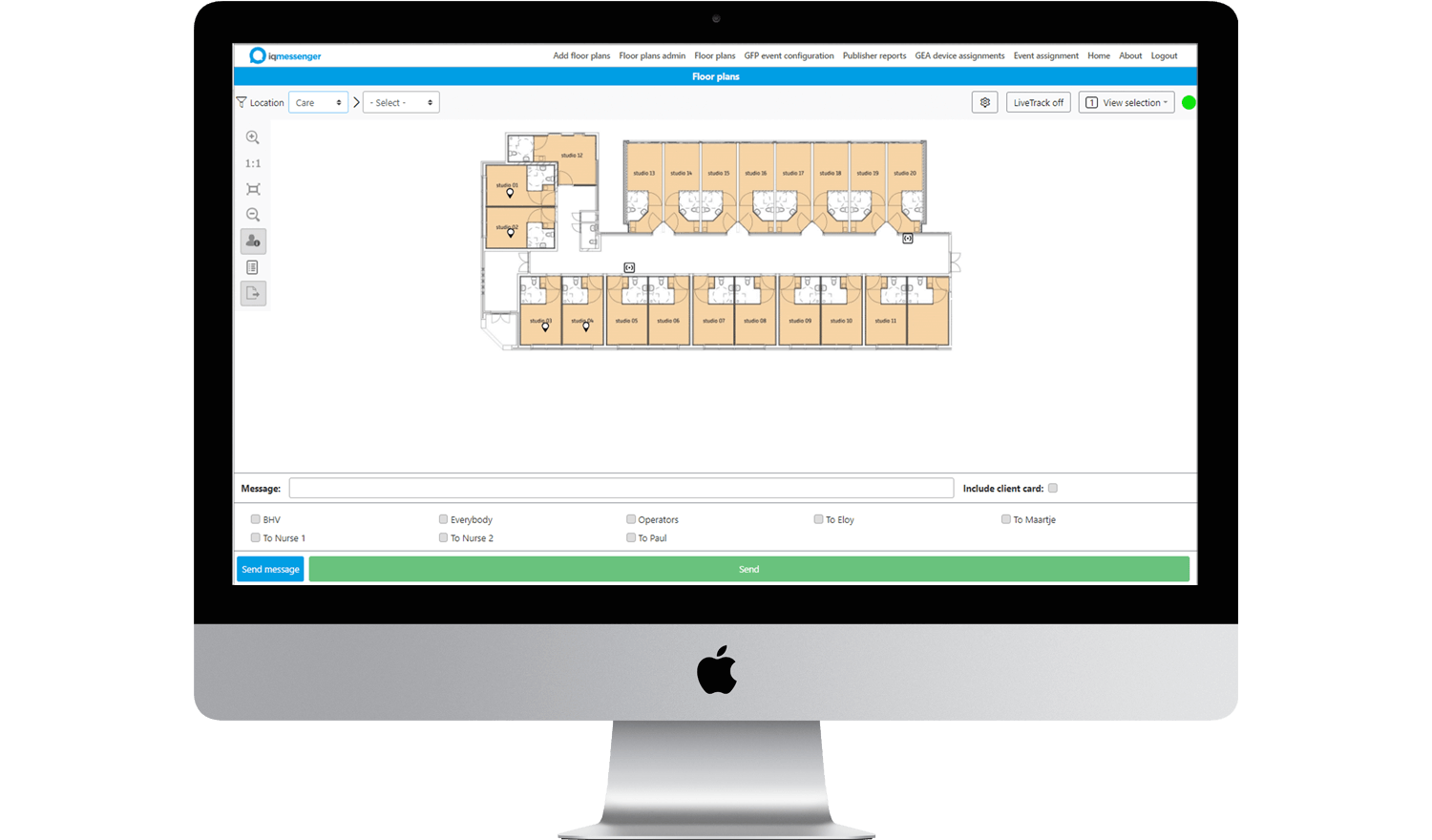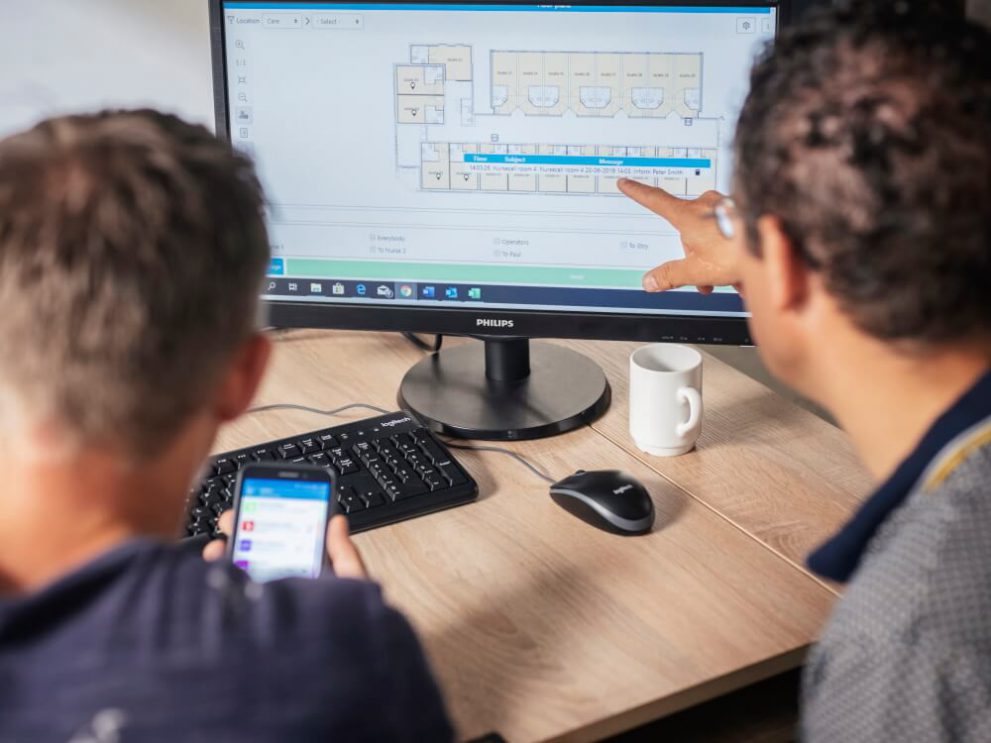 Graphical Floor Plan
The Graphical Floor Plan provides a real-time visualisation of alarms on the floor plan of the building, department or environment. All alarms of integrated systems within IQ Messenger are visualised from a single environment.
The Graphical Floor Plan gives you the ability to live-track where a device or employee is located. Live tracking and positioning are possible based on the integration of different positioning technologies. The web-based application can be operated from any workstation by simply opening a web browser. This does not require installing software on any PC.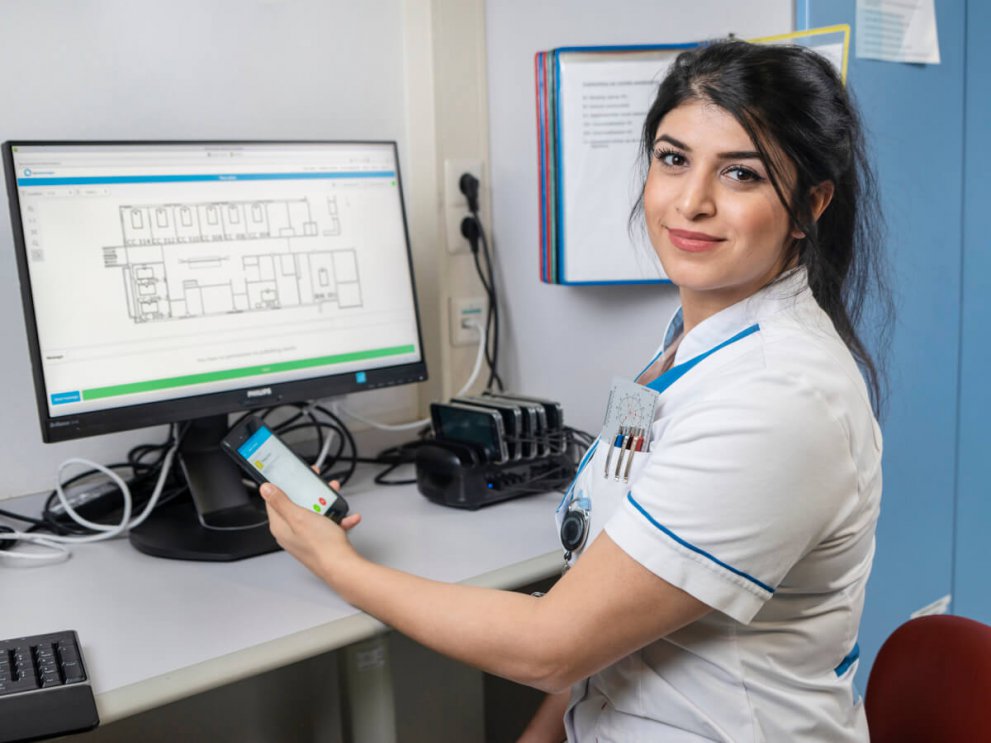 Send alarm messages and start events
The Graphical Floor Plan is also capable of sending alarm notifications. The colour of the notification, the text and to which user or user groups the notification is sent, can be set up by the individual organisations. Calamities or emergency response alarms can be sent to pre-defined user groups on a device of your choice.
Alarm and text notifications can be sent from the Graphical Floor plan, and outputs can be started with one mouse click. This would include opening a door, switching on lights or starting any event within IQ Messenger.
Floor plans, maps and markers have never been easier to add to software applications. With just a few clicks, you can quickly add any map you want for recognisable visualisation for the users.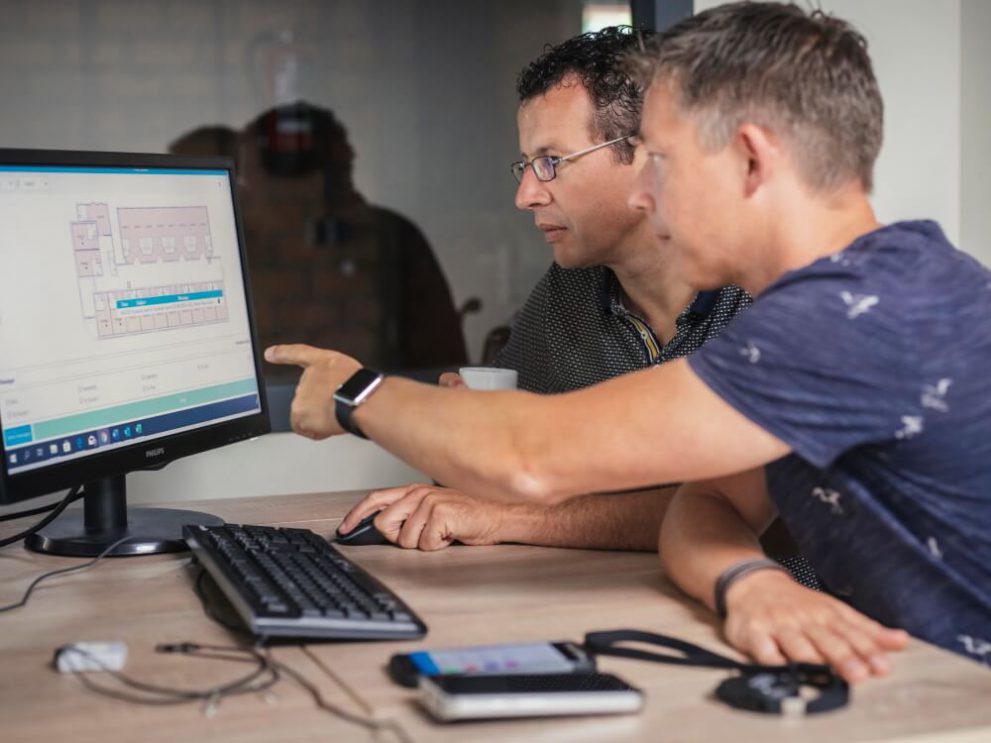 Alarms that come in on the Graphical Floor Plan can be handled in various ways:
Accept and reject
Open a camera image, start an application or work instruction or start a call-back number
Forward alerts to one or more employees
View client information
Contact a client or patient by initiating a speak-listen or video conferencing connection
Alarm notifications can be displayed using priorities, colours and sounds as desired. Upload any audio file that will be played in case of an alarm.
Guarantee alarm response with the escalation options of IQ Messenger. Let the Graphical Floor Plan user accept alarms within x seconds and escalate to another IQ Messenger integrations. Alarm notifications can be erased automatically upon acceptance to reduce alarm fatigue.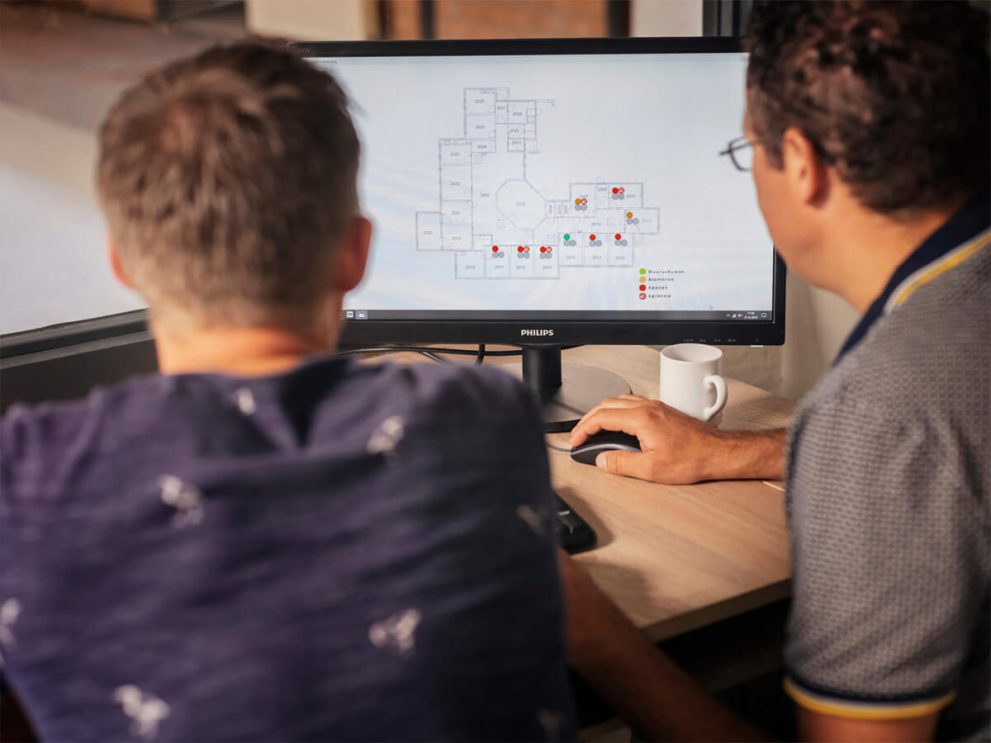 IQ Messenger continuously monitors the connection between the Graphical Floor Plan web browser and the IQ Messenger server. In the event of a disconnection or prolonged inactivity, the user will hear an audio signal.
The Graphical Floor Plan user automatically receives a notification when another employee has accepted the alarm. Enabling a profile, such as the activation of a night mode, is shown on the Graphical Floor Plan.
Real-time client information and WAR (Warning, Alert, Rescue) can be symbolically displayed on the web-based graphical map application to directly see to which client or patient the alarm notification relates.
Alarms from multiple buildings within a single graphical web-based user interface
Live-track and positioning of people and equipment
Opening doors, switching lights and triggering calamities
Sending text notifications to one or more colleagues
Monitor dozens of departments from a single environment
Get started with IQ Messenger.
Optimize alarm management
Request a demo
Keep me informed
Sign up to get the latest announcements and updates delivered to your email
Sign me up
The possibilities of IQ Messenger
See what IQ Messenger has to offer as a vendor independent message broker for critical alerts. Get in touch with us today and schedule a live demo.
Stay informed
Do you want to stay informed of the latest notifications, products or updates from IQ Messenger? Sign up to receive this by email.

-->