What is alarm fatigue?
Alarm fatigue occurs when healthcare professionals are exposed to an excess of alarms in a healthcare environment such as an ICU in a hospital or a psychogeriatric ward in a nursing home. Research has shown that up to 89% of all alarms in a ward are clinically irrelevant. Alarm fatigue should be considered a serious problem. IQ Messenger offers various alarm fatigue solutions.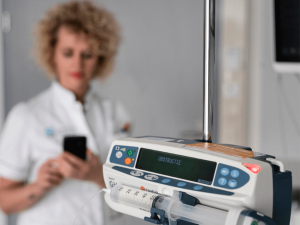 What causes alarm fatigue?
In many hospitals and nursing homes, a lot of technology is running separately. Each individual monitor, infusion pump, incubator, ventilator, etc. has its own alarm, and on top of that there are the nurse calls, acute alarms, emergency calls and so on. These parallel systems create chaos and offer no opportunities for combating alarm fatigue. To utilise these possibilities, they all need to be integrated on one vendor independent intelligent platform that communicates directly with the (smart) device of the nurse. IQ Messenger is that vendor independent platform (message broker) that connects all these systems with each other. With IQ Messenger, the healthcare organisation can intelligently manage alarms on the basis of the desired work process.
Research has shown that up to 89% of all alarms in a ward are clinically irrelevant. Alarm fatigue should be considered a serious problem.
What are the consequences of alarm fatigue?
This excess of false alarms has consequences for a hospital or nursing home on various levels:
Patient and client safety
Due to the large number of false or irrelevant alarms, clinical alarms that do require action are missed. This seriously jeopardises the safety of patients and clients.
Financial
Patients or clients injured by an overflow of alarms can result in costly consequences such as transfer from a nursing home to a hospital, the ICU, a longer hospital stay and lawsuits.
Slower recovery
Many alarms are accompanied by an audible warning on the (medical) device itself. These constant beeps cause a lot of noise and inconvenience for the patient or client, which has a negative impact on a rapid recovery.
Operational
Nurse productivity decreases because they spend too much time responding to unnecessary alarms.
Nurse downtime
An overflow of alarms causes nurses to become stressed and irritated, which can result in a burn-out and absenteeism.
Read about more solutions when it comes to alarm fatigue.
Get started with IQ Messenger.
Optimize alarm management
Request a demo
Keep me informed
Sign up to get the latest announcements and updates delivered to your email
Sign me up
The possibilities of IQ Messenger
See what IQ Messenger has to offer as a vendor independent message broker for critical alerts. Get in touch with us today and schedule a live demo.
Stay informed
Do you want to stay informed of the latest notifications, products or updates from IQ Messenger? Sign up to receive this by email.